Profile |
Maureen Rice
, certified interior decorator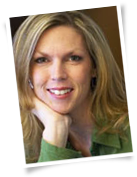 From measuring to designing, constructing to installing – Certified Interior Decorator Maureen Rice converts ideas into impressive realities by executing projects with professionalism, thoughtfulness and insight.
Over the years Maureen has leant her skills and expertise to a number of companies and organizations within the design community. Specifically, as an invaluable cast member of HGTV's Design U (seasons 2-4), she proved herself highly capable of turning out quality projects while working under arduous deadlines and budgetary constraints. Using her first name Christina on the show, she wowed audiences with her diverse skills as a seamstress and her unique style and eye for detail.
Graduating with honours from the Residential Décor Program at Algonquin College, Maureen acquired a strong understanding of the fundamentals of design – shaping her resourcefulness and sense of style.
In 2002, Maureen decided to make her own dream a reality and created Ta Da! Interiors. Ta Da! is dedicated to creating spaces that truly reflect the client's personality and style. Designing and fabricating custom window treatments, bedding, and decorative accents – Maureen delivers originality and a personalized flare to any space.
Profile |
Joanna Dyment
, certified interior decorator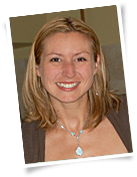 Self proclaimed travel junky, Joanna Dyment has traveled various continents in search of design inspiration. With a style sense that is as diverse as the countries she has visited, Joanna prides herself in the broad spectrum of unique spaces she has designed. With projects ranging from commercial (church renovation, cooking school, condominium building overhaul) to residential (kitchen updates, bathroom makeovers etc.), Joanna tackles these jobs with enthusiasm, dedication, and professionalism. Moreover, her energetic personality and attentiveness to clients needs is unmatched.
Joanna graduated with honours from the Interior Decorating Program at Algonquin College, excelling in drafting and colour theory, as well as demonstrating command over technical programs such as AutoCAD. During her educational career, Joanna honed her craft by taking on a number of clients and projects while gaining additional experience in a trendy furniture store. At present, Joanna continues to be a part of the Algonquin community offering professional guidance to current students as a guest speaker and serving as a member of the program's advisory board.
In 2007, Joanna partnered up with Maureen adding to the vibrant dynamism that is Ta Da! Interiors today. Nurturing relationships with trades and industry professionals, Ta Da! Interiors is a collaborative force offering innovative solutions for any design dilemma. Whether it is a full renovation, or improving an existing space, Ta Da! sees a project through from start to finish – ensuring every last detail is completed to perfection.